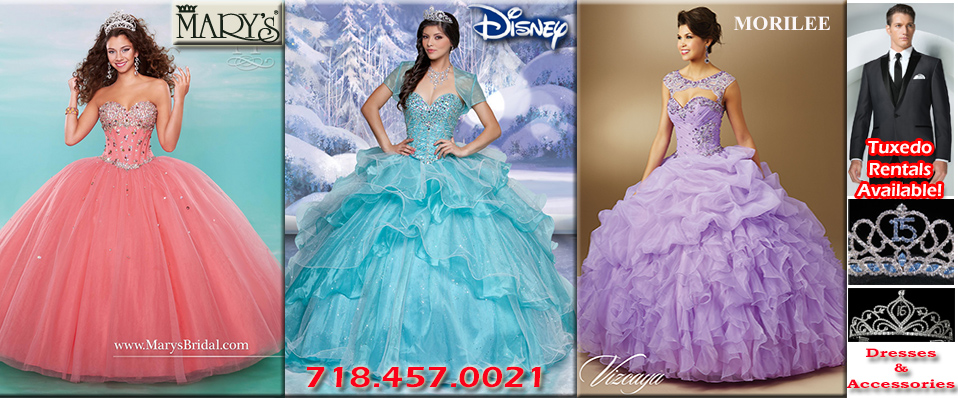 Designer Quinceanera Dresses
Now offering a full line of designer Quinceanera dresses and Sweet Sixteen dresses which are designed with a youthful and fantasy spirit. Gown colors and styles in the quinceanera collections by our brand name designers range from vibrant blues, teals, yellows, and fuchsia, to white, and soft ballet pink. Fabric options are just as diverse; graceful yet strong fabrics like lace, tulle and taffeta create the most stunning quinceanera dresses we offer. Whether your taste is classic or high fashion, our wide assortment of quinceanera dresses will show the world who you are inside and out.

We also specialize in a variety of wedding dresses, prom dresses, bridesmaid dresses, flower girl dresses, Mother of the bride dresses, dresses for Quinceanera or Sweet 16 damas. All of these products are delicate, beautiful, fashionable and of course with great quality in the market.

We invite you to stop by our location in Corona Queens NY to see our full line of quinceanera dresses or Sweet Sixteen dresses. We're sure you'll find just the right one to highlight your true beauty on your quince or Sweet 16 day. We will help you make your fairytale quinceanera dress a reality.
See Our Quince Dresses
Vestidos de Quinceañera en NY
Gracias por visitar nuestro portal. Permítanos introducir nuestra línea de vestidos de Quinceañera en Nueva York. Nuestros diseñadores de vestidos de Quince han pensado especialmente en usted por lo que han creado una gran variedad de vestidos en estilos y colores extravagantes para que el día de su fiesta sea un día completamente memorable.

Además de vestidos para Quinceaneras y Sweet Sixteen's, también ofrecemos una gran variedad de vestidos de moda de diseñadores auténticos para damas de honor, niñas princesitas, vestidos para mamas, madrinas y toda dama que desea asistir a fiestas especiales o fiestas de gala en Nueva York.

Te invitamos a visitar nuestro centro de Quinceañeras localizado en el vecindario de Corona Queens NY donde te atenderemos y te ayudaremos a escoger el vestido de tu estilo y color favorito y sobretodo uno que se asemeje a tu personalidad para que el día de tu cumpleaños te luzcas como una verdadera princesa. Contáctanos hoy y te ayudaremos que el vestido de tus ensueños se te hagan realidad!

Quinceañera Otros Servicios Exclusivos:
* Limosinas para Quinceañera y todo tipo de evento especial en NY.
* Renta de Trajes para Niños y Caballeros.
* Hacemos Tarjetas de Invitacion para Quinceanera, Bodas, Sweet Sixteen.
* Accesorios para Quinceañera: Coronas, Cojines, Crinolinas, etc…
Contact Us / Nuestros contactos
Our Quinceañera Center
9817 Northern Boulevard
Corona, NY 11368
Please call us at:
718-457-0021 or 718-457-2418
E-Mail Address:
Dresses@QuinceaneraNewYork.com
Business Hours:
Monday - Saturday:
10:00AM to 6:00PM
Sundays:
12:00pm - 6:00PM
NY Designer Dresses:
Vizcaya by Mori Lee
Mary's Quinceanera
Disney Royal Ball Collection
Quinceanera Collection by House of Wu
Tiffany Princess by House of Wu
Quinceanera Princess
Mary's Bridal - NOVIAS
Fairy Tale Princess
Couture d'Amour
Karelina Sposa
Modern Maids
Beloving
Kiss Kiss Formal